February 1st, 2017 by WCBC Radio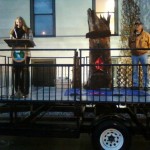 WCBC will once again provide coverage of the appearance of Mountain Maryland Murray on Groundhog Day.
Our coverage will begin during the 7 AM hour with Paul Mullan live from Cumberland City Hall.
Councilman Seth Bernard will taking over hosting the event this year.