August 1st, 2019 by WCBC Radio
The Cumberland Economic Development Corporation today announced the acquisition of 118 Baltimore Street, Cumberland, MD, formerly the M&T Bank regional headquarters.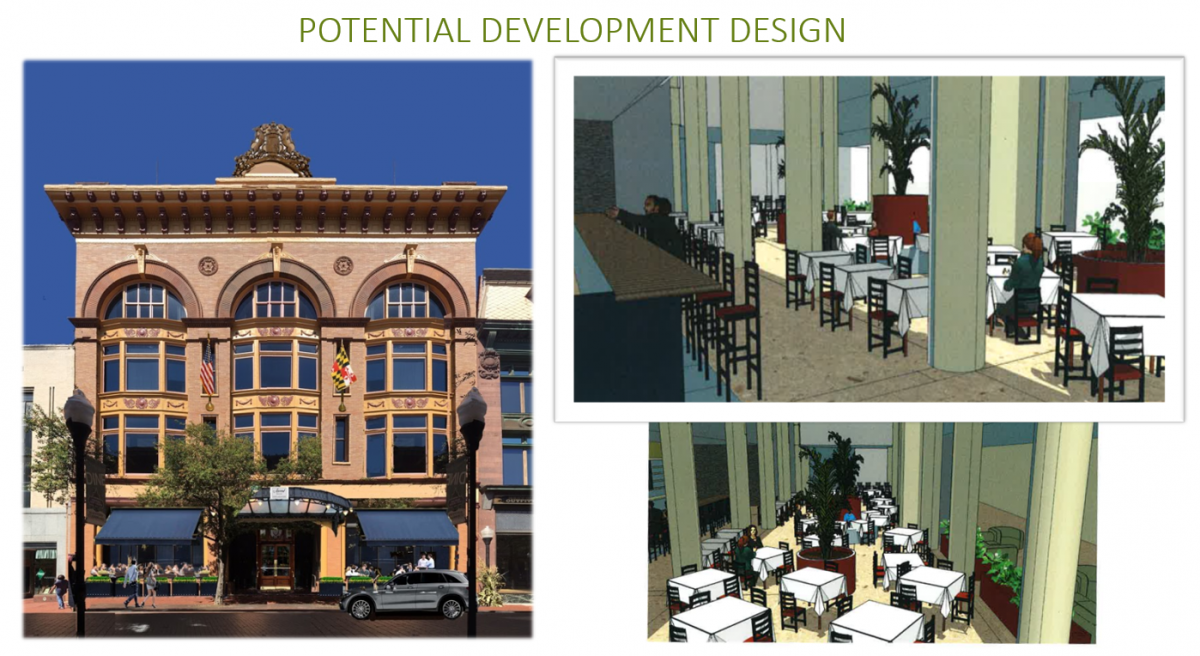 The property was purchased with a $500,000 Governor's Capital Project Grant awarded to the CEDC for the sole purpose of revitalizing real property in the Baltimore Street corridor. Built in 1901 as the Rosenbaum Department Store, the 44,000 square foot building is on the National Register of Historic Places and boasts many unique architectural details.
The building has been vacant for several years, part of a national trend among financial institutions to modify their footprint in the age of new technology and online banking. The building was appraised prior to the CEDC's acquisition and has a fair market value of $2.3 Million. "We sincerely appreciate M&T Bank's commitment to the community as evidenced by its willingness to settle on this property at such a discounted price," said CEDC Executive Director Paul J. Kelly Jr. "Their entire group was outstanding throughout this process and we value their community partnership and support to the highest degree." "M&T Bank is committed to supporting the communities we serve, and we understand it is important for our downtown business district to thrive," said Katelyn Yoder, M&T Bank Downtown Cumberland Branch Manager. "We are pleased to be able to help Cumberland bring this historic property back into use as a vital component of the downtown area." The purchase of the property is backed by much economic study and detailed analysis.
Renowned economist Anirban Basu of Sage Policy Group recommended repurposing the building as a hotel pursuant to his downtown economic development analysis. The CEDC followed up on this recommendation with a feasibility study to determine if a hotel could thrive in the market. When the feasibility study (performed by Interim Hospitality Consultants) came back extremely favorable, the CEDC commissioned a schematic design to determine if the building could be affordably repurposed for hotel. Redevelopment of the hotel is estimated to result in roughly $8 Million in private capital investment into the downtown property and will serve as an anchor attraction, increasing the vitality of other businesses in the downtown district, particularly restaurant and retail businesses. "We have attracted a lot of attention from many different developers with this project, but their interest is contingent on the street being opened," explains Matt Miller, CEDC Economic Specialist. "A hotel on Baltimore Street is not feasible without street access to the front of the building."
The CEDC plans to issue a Request for Proposal (RFP) about 4-6 months prior to the commencement of the construction of Baltimore Street with a roughly 60-day period to allow developers to respond to the request. "We are welcoming any and all proposals for this project" says CEDC Executive Director Paul J. Kelly Jr. "It would be shortsighted of us to limit the use to only a boutique hotel at this juncture. We will entertain any legitimate proposal that is submitted through the process. We want the final product to be an anchor for all of downtown, increasing overall business sustainability and maximizing the buildings capacity and potential."