December 2nd, 2016 by WCBC Radio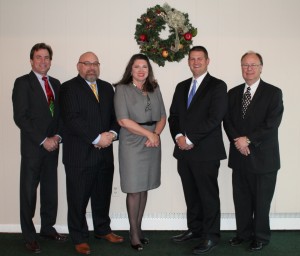 Debra M. Langan, Langan GC Corp/Anchor Homes will serve as Chair of the Allegany County Chamber of Commerce. Scott C. Pfeiffer, Director of Manufacturing Operations, Orbital ATK will serve as First Vice Chair and Charles L. Croft, Jr. , Vice President/Relationship Manager, First Peoples Community Federal Credit Union will serve as Second Vice Chair.
Newly elected members to the board were Charles L. Croft, Jr., Vice President/Relationship Manager, First Peoples Community Federal Credit Union and Samuel B. Griffith, Special Projects Engineer, National Jet Company. Re-elected for three-year terms were Renee L. Adams, Office Administrator, Adams Family Funeral Home, P. A., Rodney W. Barker, Financial Advisor, Edward Jones, Dr. David A. Cox, Superintendent, Allegany County Board of Education, and Dr. Ronald L. Nowaczyk, President, Frostburg State University.
Debra M. Langan and her husband Steve operate their own commercial and industrial general contracting firm, Langan General Contracting Corp. In 2006 they began Anchor Homes, a residential custom homebuilding and design company. Debi graduated from Frostburg State University with a B. S. Degree in Business Administration/Finance. She is an alumnus of the Allegany County Chamber of Commerce Leadership Allegany! Class of 2007 and serves as a member of both the Steering and Alumni Committees. Debi serves on the Wepco Federal Credit Union Board of Directors and is a member of its supervisory committee. She is also a member of the Western MD Homebuilders' Association and the National Association of Home Builders and volunteers at Bishop Walsh School.
Scott C. Pfeiffer is Director of Manufacturing Operations at ATK Missile Products Division located at Orbital ATK in Rocket Center, West Virginia. He received his B. S. Degree in both Physics and Mathematics from Frostburg State University. He started as a Lab Technician at ABL Operations and has worked for Orbital ATK in various engineering, business and operational roles for over 20 years. From 2002 to 2012 he served as Energetics Program Director as well as Director of Business Development for ATK's Energetics Systems Division in Radford, VA.
Renee Adams is Office Administrator and Mortician at Adams Family Funeral Home, P.A. She has been employed with the funeral home since 2002. She grew up in Cumberland, MD and graduated from Fort Hill High School Class of 1997; attended Allegany College of Maryland and graduated from Frostburg State University in 2001 with a B.S. Degree in Business Administration. She then continued her education at Pittsburgh Institute of Mortuary Science where she graduated in 2007.
Rod Barker is a Financial Advisor with the firm Edward Jones. He joined Edward Jones as a financial advisor in 2014, opening the firm's sixth branch office in Allegany County. Prior to coming to Edward Jones, Rod was the Business Sales Executive for U.S. Cellular in Allegany County for 16 years. He received his B.A. in Sport Management from Glenville State College in 1990 where he was a defensive back for the football team. Rod has served as vice chair of the Chamber's Membership Committee for the last eight years and has shared many successful ideas such as the Network & Win program which has been a contributing factor to the increased attendance at the monthly "Chamber After Hours" events over the past six years.
Dr. David Cox received his Doctorate in Educational Leadership, his Masters of Supervision and Administration and his Bachelors of Music Education all from East Tennessee State University in his native northeast Tennessee. In July of 2009, he was appointed as Superintendent of Schools in Allegany County, MD and was reappointed for a second term in July 2013. During his tenure in the Allegany County Public School System, Dr. Cox formed a Community Resource Committee for the Utilization Study of Secondary Schools which led to the current design and planned construction of a new Allegany High School, which will open in the fall of 2018. He has supported and overseen the development of a Partial Immersion Chinese Program for elementary school students and the addition of Mandarin Chinese for credit to high school students; and has overseen the development and implementation of Allegany County's Active Learning Labs, a high tech learner drive program focused on student engagement, which was first piloted at John Humbird Elementary School, and has expanded to Washington Middle School. He is a member of numerous professional and community organizations including the American Association of School Administrators, Association for Supervision and Curriculum Development, Professional School System Administrators of Maryland, where he serves as the 2016 President, the Chamber Education Committee, Cumberland Rotary Club and LaVale Lions Club and he is a graduate of the Leadership Allegany! Class of 2010.
Charles L. Croft, Jr. is a graduate of Fort Hill High School and continued his education at Frostburg State University completing his Bachelor of Science degree in mathematics and history. Charlie continued his studies at Frostburg State completing his MBA in 1981. Further studies included completion of the Maryland Banking School program and the ABA National Commercial Lending School in Norman, Oklahoma. He started his banking career in 1976 with the former Liberty Trust Company where he managed the former Country Club Mall and Downtown Mall offices. Later he served as the Credit Department Manager specializing in commercial lending. Charlie moved to First Peoples Community Federal Credit Union in 1993 as the Vice President/Lending and presently serves as V/P Relationship Manager overseeing the member business lending department. Community involvement includes 32 years of active service with the LaVale Lions Club where he has served as club president and club secretary for sixteen years. A Melvin Jones Fellow, Charlie has served the Lions of District 22-W as zone and region chair. A member of Emmanuel Episcopal Church, Cumberland, Charlie is the current church treasurer, head of the ushers and lay Eucharistic minister. Charlie is a graduate of Leadership Allegany! Class of 2000 and has served on the Leadership Allegany! Steering Committee since 2000.
Samuel B. Griffith grew up in the Allegany County region where he went through the Allegany County school system in education and sports. Sam went on to attend the University of Maryland where he obtained a degree in Mechanical Engineering. During his tenure at UMD, Sam consulted for companies such as Bechtel and DeWalt/Black and Decker, subsequently obtaining a Six Sigma green belt certification through his consulting work. Out of college, Sam took a job as project manager with Schindler Elevator Corporation in Washington, DC. In this role, Sam managed numerous multi-million dollar modernization projects on buildings such as the National Air and Space Museum and the Westin Tyson's Corner. After one year with Schindler, Sam was promoted to Senior Project Manager, the youngest to achieve this title in company history. Looking for a new challenge, Sam's father approached him with the notion of returning to Allegany County to transition into the role of President of National Jet Co. Sam has begun this transition as Special Projects Engineer, moving back into the region in the summer of 2014. To assist in this succession plan, Sam has become an active member in the National Tooling and Machining Association's Emerging Leaders.
Dr. Ronald Nowaczyk began his career in the Department of Psychology at Clemson University in 1977, where he remained in a succession of faculty positions through 1998. In 1998, when he was hired as chair of the Department of Psychology for East Carolina University, Nowaczyk continued to work as a professor, a role he maintained after rising to become Vice Chancellor in 2003. Nowaczyk served in numerous positions in higher-education administration, including dean of the College of Arts and Sciences at the University of New Haven (2006-2011), associate vice chancellor for economic and community development at East Carolina University (2003-2006), He also served for a year as an ACE Fellow at the University of Delaware (2001-2002). Prior to becoming President of Frostburg State University he served as provost and vice president for academic affairs at Clarion University. Mr. Nowaczyk has also been an active citizen in the communities where he has lived. In Pennsylvania, he served on the boards of the Northwest Partnerships for Regional Economic Performance and the United Way for Clarion County, and in North Carolina's Pitt County he served on the boards of the United Way of Pitt County, the ARC of Pitt County and the American Red Cross.