December 6th, 2013 by WCBC Radio
Lavale resident Kevin Shaffer has been coming before the Allegany County Commissioners for more than a year on matters relating to freedom of speech issues. Shaffer is frustrated that he has been told be can't utter any expletives during public meetings. Shaffer believes that is a violation of his first amendment rights. During Thursday's public meeting of the commissioners, Shaffer, a county employee, argued with the county officials again- and once again used several expletives. President Mike Mckay interupted Shaffer,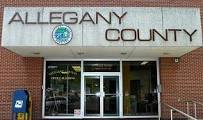 suggesting his comments were out of order and he gaveled the meeting to an abrupt close. Several citizens in attendance expressed frustration to Shaffer after the meeting indicating they were offended by his language. Shaffer, who is planning to run for county office next year, was placed on leave as a disciplinary action on Friday.