February 16th, 2017 by WCBC Radio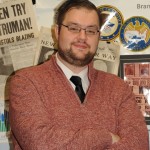 Robby May, Social Studies teacher at Fort Hill High School, has been selected by the National WWII Museum to be a part of their prestigious two-summer teaching fellowship.
This summer, Mr. May will travel to New Orleans where he will study under world renowned WWII scholar and New York Times bestselling author, Donald L. Miller, PhD. 30 teachers from around the nation (of over 400 that applied) will be selected to participate in an intensive week-long seminar utilizing the vast resources of the Museum, including the expertise of educators, curators, and historians, to explore strategies for teaching the history of World War II.
During the 2017-2018 school year, participants will partner with Museum educators to develop and present their own professional development workshops. In July 2018, the cohort will reconvene in Normandy, France, to explore firsthand the site of the 1944 D-Day landings, the largest amphibious invasion in history. Prior to both summer sessions, participants will interact with Dr. Miller, Museum educators, and one another through preparatory readings and online discussions.