February 12th, 2015 by WCBC Radio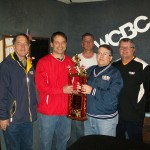 The Fort Hill Sentinels have added to the football trophy case on Greenway Avenue, winning the John Alkire Memorial Award as the area's top team.
The Sentinels completed back to back undefeated seasons with a second consecutive MPSSAA 1A Title two months ago at M & T Bank Stadium.
Pictured from left: WCBC's Stat Man Mike Connelley, Fort Hill Coach Todd Appel, WCBC Analyst Tim Kane, WCBC Play By Play Announcer Rock Cioni, and WCBC Analyst Paul Miller.