September 5th, 2014 by WCBC Radio
Our Live Free for the Month of August Winner was drawn today from our thonsands of entries. Our winner is Annette Dorsey of Ridgeley, WV. Annette registered online. Live Free is brought to you by WCBC Radio, Fantastic Sams, Beckmans Greene Street Pharmacy, The Mixx, D&D Motors, and Chick-Fil-A Queen City Center.
July 10th, 2013 by WCBC Radio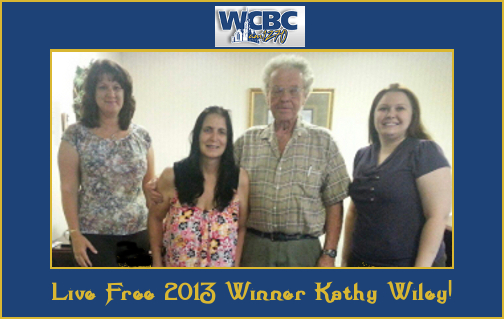 Every year WCBC Radio holds a drawing called Live Free in June. One lucky winner is picked from the thousands of entries and we pay their June bills…up to $1,000 of their mortgage or rent, up to $100 towards each of the following: telephone, electric, heat, and water, car payment up to $600, up to $200 for groceries and gas, and $20 towards internet service. We drew the 2013 winner this morning on the Dave Norman show, this years winner is Kathy Wiley of Cumberland, MD. She registered at Beckman's Greene Street Pharmacy. The staff at WCBC would like to take this opportunity to congratulate Kathy and to thank her for registering and listening to WCBC!! Other participating registration locations included WCBC, wcbcradio.com, Fantastic Sams on Industrial Blvd beside Little Caesars, J&S Pawn, and Chick-Fil-A in the Queen City Center. Thank you to all of our participants and supporting merchants. And, once again, CONGRATULATIONS to Kathy from all of us here at WCBC!!
Fatal error
: Cannot redeclare theme_comment() (previously declared in /mnt/stor8-wc1-dfw1/386818/393759/www.wcbcradio.com/web/content/wp-content/themes/WCBC/comments.php:12) in
/mnt/stor8-wc1-dfw1/386818/393759/www.wcbcradio.com/web/content/wp-content/themes/WCBC/comments.php
on line
12