January 6th, 2019 by WCBC Radio
John Edward Burkey, 69, of Cumberland, passed away on Friday, January 4, 2019, at the Western Maryland Regional Medical Center.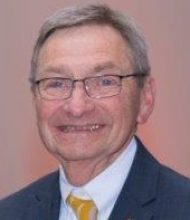 Born on May 27, 1949, in Cumberland, MD, he was the son of the late Mary E. (Jolley) and Edward R. Burkey. John was a 1967 graduate of Bishop Walsh High School, and he attended LaSalle High School before the Catholic schools merger. John was a graduate of University of Baltimore/ Baltimore College of Commerce, class of 1971. Following graduation, John joined the family business, Burkey's Furniture Company, in LaVale, MD.
John was a member of SS. Peter and Paul Catholic Church Our Lady of the Mountains Parish. He was a member of the LaVale Lions Club for over 45 years. He served the organization as an officer in almost every capacity. John was a Board member of the Allegany County United Way where he chaired the Capital Campaign Committee. He was also a board member of the Cumberland YMCA. John was a community volunteer for many local organizations. Most importantly, John was a supporter of and mentor to many fellow cancer patients.
In 1992, he was awarded LaVale Lion of the Year, the Mountainside Community Coalition Honor in 2004, Lions' International Melvin Jones Fellow in 2004, Allegany County's One Of The Most Beautiful People in 2005, Rotary International Paul Harris Fellow in 2005, Allegany County Commissioners' Citation for Community Service in 2005, Knights of the Blind Award from Lions' International in 2007, Lions' International Progressive Melvin Jones Award in 2016, Lion District Governor's Commendation Medal in 2017, and the Allegany County Commissioners' Citation for 70 years in business in 2018.
John, along with his wife of 46 years, Kathy, in 2008, were awarded the Allegany County Chamber of Commerce Individual of the Year Award, and in 2018, they were awarded the Community Trust Foundation Humanitarian Award.
He is survived by his wife, Kathy (Smith) Burkey; brothers, Daniel J. Burkey and wife Susan, Hagerstown, MD, Dr. Brian B. Burkey and wife Maureen, Gates Mills, OH; nieces, Rachel E. Burkey, Erie, PA, Stacey K. Stine and husband Kevin, Hagerstown, Susanne A. Ford and husband Dave, Severna Park, MD; nephews, David E. Burkey, Silver Spring, MD, and Stephen E. Ames, Jr., Frederick, MD; great-nieces, Emily, Lauren, and Mia; great-nephews, Andrew, Matthew, and Jacob; cousin, Jeff Boyd and wife Diane, Derwood, MD, and their children, Matt and Sean. John is also survived by many other cousins.
Friends will be received at the Scarpelli Funeral Home, P.A., 108 Virginia Avenue on Sunday, January 6, 2019, from 2-4 P.M. and Monday, January 7, 2019, from 1-4 and 6-9 P.M. The members of the LaVale Lions will conduct their Memorial Service on Monday, January 7, 2019, at 7 P.M. Mass of Christian Burial will be celebrated on Tuesday, January 8, 2019, at 10 A.M. at Saints Peter and Paul Shrine. At John's request, he will be cremated.
In lieu of flowers, those wishing to honor John's memory may do so by making contributions to the Schwab Family Cancer Center at WMHS, https://www.wmhs.com/foundation/donate-now/ Attn: Julie Hardy, 12500 Willowbrook Road, Cumberland, MD 21502; Our Lady of the Mountains Parish, http://www.olmcumberland.org/ach-offertory/ 300 East Oldtown Road, Ste. 2, Cumberland, MD 21502; LaVale Lions Club, 421 National Hwy, La Vale, MD 21502; and the Community Trust Foundation, 71 Baltimore St, Cumberland, MD 21502.
Condolences for the family may be left at www.ScarpelliFH.com.