July 23rd, 2017 by WCBC Radio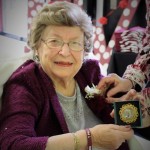 Irene Grabenstein, who spent most of her life working for, and tending to matters related to, Bishop Walsh School, had passed away at the age of 94.
The school released the following statement:
Mrs. Irene Grabenstein, long-time administrative assistant, school board member and endless advocate for Bishop Walsh since the school's opening, passed away last night at age 94.
Irene was recently honored at the BW 50th Anniversary Celebration at Homecoming for her years of tireless service. She has always been a support and a calming presence to every student and alum with whom she came in contact. She will be greatly missed. Please keep Irene and her family in your prayers.
Friends will be received at Scarpelli Funeral Home in Cresaptown from 2-4 & 6-9 on Tuesday, July 25. Funeral Mass will be at the Shrine of Ss. Peter and Paul on Wednesday, July 26, at 10 am.
The family requests that there be no flowers, instead donations be made to Bishop Walsh School or St. Anthony's Place in Cumberland in Irene's memory.
We love you, Mrs. Grabenstein.