September 1st, 2015 by WCBC Radio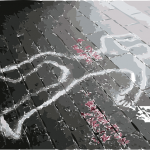 Ralph Richard Faith, Jr., 27, of Cumberland was scheduled to be sentenced for the death of Christopher Wigington and the assault of Tracey Harris in the Circuit Court for Allegany County. Pursuant to a plea agreement the State was going to recommend 23 ½ years as part of a larger suspended sentence for the offenses. However, Faith requested permission to withdraw his plea agreement and discharged his assigned attorneys from the Public Defender's Office. Judge Finan found that there was no merit to Faith's argument that his assigned counsel was deficient in any way but permitted him to discharge his counsel. The matter is continued to October 6th, 2015, at which time Faith's request to withdraw his guilty plea will be heard by the Court. It is possible that Faith could be represented by another attorney assigned by the Public Defender, hire his own private counsel or represent himself at future hearings. In the event the Court refuses to permit Faith to withdraw the plea, sentencing could be heard on the same day.
Faith was represented by James Elliott and Michael Stankan of the Public Defender's Office. Michael Twigg and Erich Bean prosecuted the case for the State. The Honorable Timothy Finan presided over the hearing.