April 6th, 2016 by WCBC Radio
The 30th Annual Tri-State Mathematics Competition Awards Ceremony, presented by Allegany College of Maryland (ACM), was held at the Continuing Education Building on the Cumberland campus of ACM on Friday, April 1, 2016. This competition encourages high school juniors to test their math knowledge and cognitive skills individually and as part of a team with an opportunity to earn scholarships to attend ACM. Scholarships are provided by the generous donations from the Lavale Lions Club.
The contest's top finishers were honored at the ACM ceremony attended by ACM administrators and faculty, parents, family members, teachers, and school administrators. Team awards were presented to the top three teams based on the top three highest student scores. They were as follows:
First Place: Bishop Walsh, 119 points, Teacher: Carl Watson, Team members: Zora Tia, Butan (Felix) Zhang, Haopeng Han
Second Place: Bedford, 107 points, Teacher: Dave Miller, Team members: Leon Yang, Mattea Harrison, Zach Ritchey
Third Place: Allegany, 77 points, Teacher: Jim Bucy, Team members: Jared Klemm, Autumn Holt, Kristian Robinette
The top ten student individual scores received certificates and scholarship awards from the Lavale Lions Club. They were as follows:
First: Leon Yang, Bedford
Second: Jared Klemm, Allegany
Third: Zora Tia, Bishop Walsh
Fourth: Haopeng Han, Bishop Walsh
Fifth: Butan (Felix) Zhang, Bishop Walsh
Sixth: Zeyn Song, Calvery Christian
Sixth: Jonah Facciolli, Southern Garrett
Sixth: Wayne Bloom, Everett
Sixth: Mattea Harrison, Bedford
10th: Nathaniel Graves, Fort Hill
10th Reid Buskirk, Mountain Ridge
10th Joel Colledge, Everett
Additional attendees at the awards ceremony were Jim Bucy, Allegany math teacher; Vicki Hoover, Mountain Ridge math teacher; Steve Thompson, Fort Hill math teacher; Gene Morgan, Mountain Ridge Principal; Joe Carter, Fort Hill Principal; and David Smarik, ACPS Assistant Math Supervisor.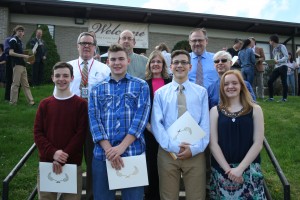 Pictured: Reed Buskirk-Mountain Ridge, Nathanial Graves-Fort Hill, Jared Clemm-Fort Hill, Autumn Hott-Allegany, Joe Carter-Fort Hill Principal, Steve Thompson-Fort Hill Math Teacher, Vicki Hoover-Mountain Ridge Math Teacher, Dave Smarik-Asst. Math Supervisor, Jim Bucy-Allegany Math Teacher