March 17th, 2019 by WCBC Radio
Next week, the Maryland Department of Transportation State Highway Administration (MDOT SHA) will begin a project to repair or replace drainage system inlets on MD 53 (Winchester Road), MD 658 (Vocke Road) and on US 40 Alternate (National Pike) in LaVale. Crews will also repair/replace drainage inlets on the I-68 (National Freeway) ramps to MD 658 and MD 53. The $558,000 project will be complete late-summer, weather permitting.
The project will reconstruct 76 stormwater inlets, clean drainage pipes, repair or replace loose or damage bricks and make substantial concrete repairs to the drain inlets. The entire project totals more than 2.3 miles.
The exact project limits are as follows:
MD 658 between US 40 Alternate and MD 53 – (more than one-half mile);
MD 53 between US 40 Alternate and I-68 – (more than one-half mile); and
US 40 Alternate between MD 53 and MD 658 – 1.1 miles.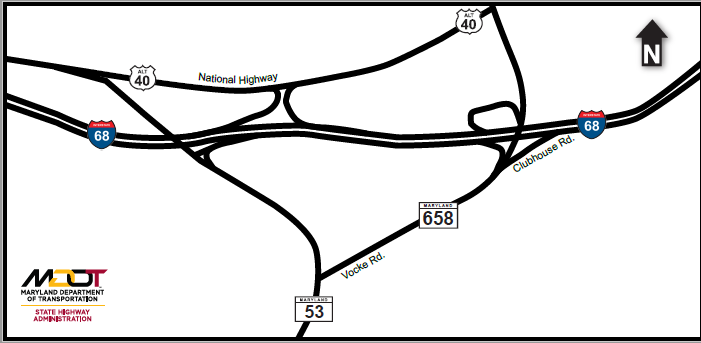 (MDOT SHA graphic: Project Area of Drainage Inlet Repair/Replacement Project.)
Motorists can expect single lane closures Mondays through Fridays between 9 a.m. and 3 p.m. and Sunday nights through Friday mornings between 10 p.m. and 6 a.m. MDOT SHA's contractor, Excavating Associates, Inc. of Ellerslie, will use barrels, cones, arrow boards and flaggers to guide motorists through the work zones. The three roads have an average daily traffic volume of approximately 13,200 each, so motorists should leave extra commute time during construction.