August 3rd, 2015 by WCBC Radio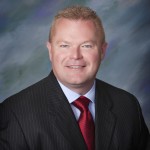 James R. Pyles, who recently retired from the Maryland State Police after a highly successful 26-year career, has been named to the board of trustees of Allegany College of Maryland.
The seven-person board, whose members are appointed by the Maryland governor, provides local governance to the state- and county-supported community college. The term is for six years.
Pyles was appointed to fill a trustee vacancy created by the recent retirement of long-time college trustee Dr. V. Raul Felipa. The Cumberland physician, who had served on the board since 2004, has relocated.
"Jim Pyles is a welcome addition to the board of trustees," said Kim B. Leonard, ACM board chair. "His proven leadership qualities and management skills combined with his law enforcement expertise and life experience will provide valuable insights and perspective as the college continues to fulfill its mission to the community."
Joining the board of trustees expands Pyles' involvement with ACM. Since 2010 he has served on the board of directors of the ACM Foundation, which encourages and promotes the progress of the college.
The not-for-profit corporation receives and manages donations that especially increase access to higher education through the student scholarships that it administers. Service on both boards is voluntary.
ACM's newest trustee brings a strong background in executive leadership and management as well as law enforcement. He also has a keen understanding of the education and training needed in the public safety professions.
The college is well known for criminology and criminal justice programs that have helped launch countless careers in law enforcement, corrections and related fields, including his own.
Pyles held one of highest-ranking positions within the state police force. A major, he served as commander of the Northern Command, Criminal Enforcement Division. The Northern Command is divided into the Central, Northern and Western troops and comprises nine counties, spanning from Garrett to Cecil.
His statewide areas of responsibility included auto theft, public corruption, insurance fraud, environmental crimes, gang unit, computer crimes unit, child recovery, digital forensics laboratory, Maryland Center for Missing Children, Maryland State Apprehension Team, the technical surveillance unit and the Pro Active Criminal Enforcement Team.
In that post, Pyles oversaw all criminal and narcotics investigators and their work in the northern half of the state. Before his promotion in January 2013, Pyles held the rank of captain and was commander of field operations of the force's Western Troop, Field Operations Bureau.
In that role he oversaw operational and administrative matters at state police barracks in Cumberland, Frederick, Hagerstown and McHenry. Prior to that five-year assignment, Pyles held the rank of lieutenant and was commander of the Cumberland barrack from 2007-08.
He previously led drug enforcement operations for the force in Maryland's four westernmost counties with the police force's Homeland Security and Investigation Bureau. Before that Pyles commanded the Allegany County Combined Criminal and Narcotic Investigations Unit, commonly known as C3I.
His progressively responsible experience in law enforcement and leadership began as a trooper at the Cumberland barrack in 1989. As a sergeant, it included command of a Regional Warrant Apprehension Task Force in the Baltimore metropolitan area.
After attending ACM, Pyles earned a bachelor's degree in criminal justice from Fairmont State University and completed Maryland State Police Academy training. He subsequently earned a master's degree in management from Johns Hopkins University.
Pyles has taken additional leadership and management training, including through Louisiana State University, the FBI and the U.S. Drug Enforcement Administration, as well as extensive technical and specialized training.