February 19th, 2019 by WCBC Radio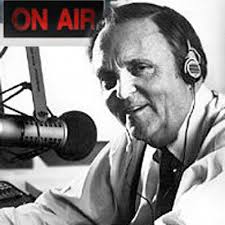 Bruce Williams, who was one of the first to host a national radio talk show, has died at the age of 86.
Williams hosted the night show on Talknet, and was carried by WCBC when we shifted from a music format to a talk format. He was very popular and had an extensive background in business and politics, having served as mayor of Franklin Township in New Jersey.
Bruce would begin his nightly show with the words: "Welcome my friends. Welcome to My World." Listeners would call from around the country with questions on finance, retirement, advise, and even family problems. Williams would always handle the inquiries honestly, but would take off the gloves and make a strong point when necessary.
Born Feb. 18, 1932, Mr. Williams grew up in East Orange, N.J., and went on to become one of the country's top radio talk show hosts. For more than 29 years, the legendary Williams started his nationally syndicated show by slipping behind the microphone and saying, "Welcome my friends – welcome to my world."

Spanning a career that lasted more than three decades, Bruce Williams created a loyal listenership hundreds of thousands of people strong with his informative and entertaining program, delivered in his signature deep, warm, welcoming voice.

But one of the most unusual and remarkable facts surrounding Mr. Williams' Hall of Fame radio career is that it did not begin until he was well into his 40s.

Blessed with an innate sense of business, at age 11, he devised a way to address one of the many shortages common at the end of World War II by melting down lead pipes and casting them into toy soldiers. Eyes wide open, he was off and running, pursuing every avenue where he believed a profit could be made.

After serving in the Air Force during the Korean War and graduating from Newark State College (now Kean University), he opened a pre-school named after his children. He spent time driving an ice cream truck in Newark, N.J. He was also a taxi driver and drove a beer truck. For 70 years of his life, he spent the holiday season selling Christmas trees.

On the white-collar side, Mr. Williams sold insurance, owned a flower shop, a car rental agency, a barber shop, and he owned and operated several nightclubs.

There was even a whirlwind tour into the world of politics where the Honorable Bruce H. Williams was elected to the Franklin, N.J., Township Council, as well as serving terms as deputy mayor and mayor between 1967 and 1975.