May 11th, 2016 by WCBC Radio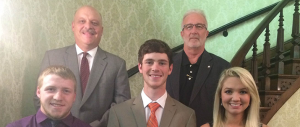 Three Allegany County Public School students were recently selected as 2016 recipients of the annual WCBC Student Salute Program scholarships, sponsored by Younger Toyota. Lucas Lowry of Mountain Ridge High School will receive a $5,000 one-year scholarship, to be used for tuition, to Frostburg State University for the 2016-2017 academic year. Katelyn Suesse and Blake Geatz, both seniors at Allegany High School, are the second and third place recipients of $500 scholarships to FSU for the upcoming year.
The WCBC Student Salute Program is a collaborative effort to recognize high school seniors who excel in the classroom. Through the program, those students identified as exceptional academic achievers, based on GPA, school and community leaders, and who intend to enroll at Frostburg State University, earn the opportunity to qualify for scholarships.
Lucas Lowry is the captain of the basketball and baseball teams at Mountain Ridge and a member of the Fellowship of Christian Athletes and the National Honor Society. He also volunteers his time with the Mountain Maryland Catholic Church youth group as a referee and umpire for youth sports. He has won MVP awards in basketball, made all-tournament teams in basketball, was All-AMAC Honorable Mention in baseball, and consistently makes the honor roll. Lucas plans to attend Frostburg State University and hopes to pursue a career in athletic training.
Katelyn Suesse is a member of the Future Business Leaders of America (FBLA), the National Honor Society and the cheerleading squad at Allegany and also volunteers her time as an academic tutor. She assists with a number of local fundraisers including the annual Hooley Plunge, the Rake n' Run, Day of Caring and Sharing, and Toys for Happiness. Katelyn enjoys visiting VA hospital residents and helps in her church's nursery. She consistently makes the honor roll; placed 3rd at the FBLA regional competition, and 5th at the FBLA state competition. Katelyn plans to attend Frostburg to major in mechanical engineering.
Blake Geatz is the captain of the soccer team and a member of the baseball team at Allegany. He is also a member of the FBLA and the National Honor Society. Blake volunteers his time at the Salvation Army as a bell ringer, at church dinners, and with the Ragnar Relay. He made All-City First Team and All-Area First Team in soccer, received the AP Scholar award, and the Scholar Athlete award. Blake plans to attend FSU and hopes to pursue a career in math or science.
The Allegany County Board of Education distributes and collects applications for the WCBC/Younger Toyota Student Salute scholarships, which are converted into "on-air" salutes that run weekly on WCBC. The Allegany County Chamber of Commerce's Education Committee reviews all applications and selects the FSU scholarship recipients. All three students were recognized at the May business meeting of the Board of Education.