WCBC Platforms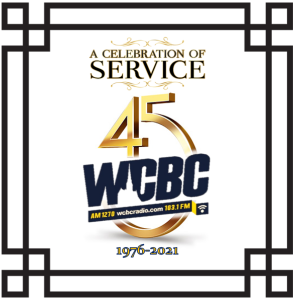 WCBC has been on AM 1270 since April 1976, and now is featured online and on smart speakers. WCBC can also be heard on FM 103.1, expanding our coverage to many areas of Allegany County that had difficulty hearing our programming, especially at night.
Our programming includes WCBC's award winning local news and community affairs, Dave Norman, Glenn Beck, Rush Limbaugh, Sean Hannity, Mark Levin, Michael Savage, Jim Bohannon, George Noory, and Dave Ramsey. Sports coverage includes local high school football and basketball, Allegany College of Maryland basketball, Frostburg State University football, Pittsburgh Pirates baseball, Washington Redskins football, and numerous special events.
"We're proud to offer our programming to more of the region than ever before," said Cumberland Broadcast Company President David Aydelotte. "We've been looking to upgrade our coverage in the Frostburg, Mount Savage, Oldtown, Flintstone and Little Orleans areas for several years, and are happy to reach those listeners at all hours of the day."
The Cumberland Broadcasting Company owns WCBC AM 1270, FM 103.1, and Classic Hits 107.1 FM and wcbcradio.com.