November 19th, 2020 by WCBC Radio
Well over a thousand residents have taken advantage of free testing at the Allegany County Fairgrounds in recent days.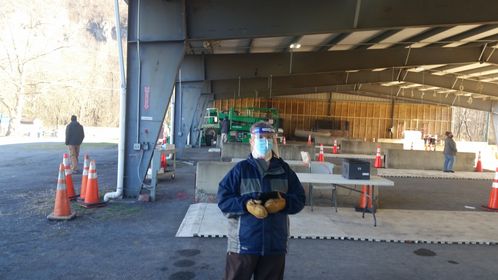 Once you make it through the line of cars, which can be long depending on the time of day and demand, you are greeting by a staff member which will take your information.

The staff member will gather your information visually, as you display your information through the driver's side window. Information such as your phone number is given by cracking open your window slightly.

After giving your information, you will pull your car forward to the staff members who will perform the actual test.
The medical personnel are dressed in Personal Protective Equipment and are wearing medical grade N-95 masks.

You will then roll down your window and the personnel will reach in with a long swab, and have you open your mouth. The test is like one for strep throat.
From the time you pull up to the time you are through with the procedure takes about three to five minutes.