May 8th, 2017 by WCBC Radio
On Thursday, May 4, 2017, 60 high school seniors were honored at the 34th Annual Achievement Awards banquet held at the Allegany County Fairgrounds. The end-of-the-year event recognizes graduating seniors in the Allegany County Public School System who are in the top 12% of their classes in academic excellence, who have made special accomplishments in the arts, and who demonstrate superior leadership qualities. A total of 23 of these students have chosen to continue their education locally at either Allegany College of Maryland or Frostburg State University.
Sponsors of this year's event included the Allegany County Teachers Federal Credit Union, Daly Computers, Orbital ATK, Skyline Technology Solutions, and the Western Maryland Health System. Members of the banquet planning committee who worked to organize the program were Nil Grove, chairperson; Dr. Kim Kalbaugh, Dr. Wendy Main, Marsha Miller, and Tanya Gomer. Tom Harrison provided the music for the evening's event, and Oscar's Restaurant catered the sit-down dinner. The Career Center's printing department printed the programs for the banquet.
ACPS Chief Academic Officer, Dr. Kim Kalbaugh, opened the event with a welcome address to all students, parents, and special guests in attendance. Laurie Marchini, school board president, served as the Master of Ceremonies and presided over the awards presentations. Sara-Beth Bittinger, school board vice president, offered a tribute; Tammy Fraley, school board member, introduced the evening's special guests; and Wayne Foote, school board member, gave closing remarks. High school principals introduced each of the students below as they received recognition for their accomplishments.
Allegany High School: Rebekah Book, Abby Brauer, Triston Eirich, Emma Helmstetter, Autumn Holt, James Kealey, Shyann King, Jared Klemm, Kaden Lohr, Alexis Pfeiffer, Kristian Robinette, Zachary Sterne, Cooper Willetts, Brett Winterberg, Emily Wright.
Center for Career and Technical Education: Barbara Alexander, Nicholas Crawford, Braeden Davis, Lexi Guthrie, Ike Higson, Jenna Holshey, Malakia May, Luke Mertz, James Moore, Katelynn Rump, Nathaniel Sacchetti, Brandon Sears, Delaney Shipley.
Fort Hill High School: Tavyn Ansel, Noah Bunner, Jacqulynn Clark, Morgan Creamer, Daejiah Dayton, Nathaniel Graves, Richard Hess, William Kunis, Shayla Lewis, Michael Looker, Michael Mackereth, Benjamin Mason, Parker McKenzie, Jesse Miltenberger, Briella Moon, Connor Stepp, Noah Weber.
Mountain Ridge High School: Connor Baker, Sei Boayue, Reid Buskirk, Ryan Buskirk, Noah DeMichele, Alexandra Dittmer, Alicen Greenwald-Steele, Tessa Lutton, Lydia Maffley, Allison Martz, Allison McManus Benjamin Shertzer, Alexa Sowers, Blair Willey, Hannah Yazdani.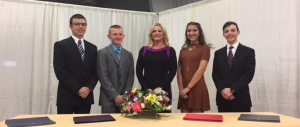 Pictured: Cooper Willetts (AL), Braeden Davis (CCTE), Dr. Kim Kalbuagh, Chief Academic Officer; Morgan Creamer (FO), and Reid Buskirk (MR).