March 19th, 2019 by WCBC Radio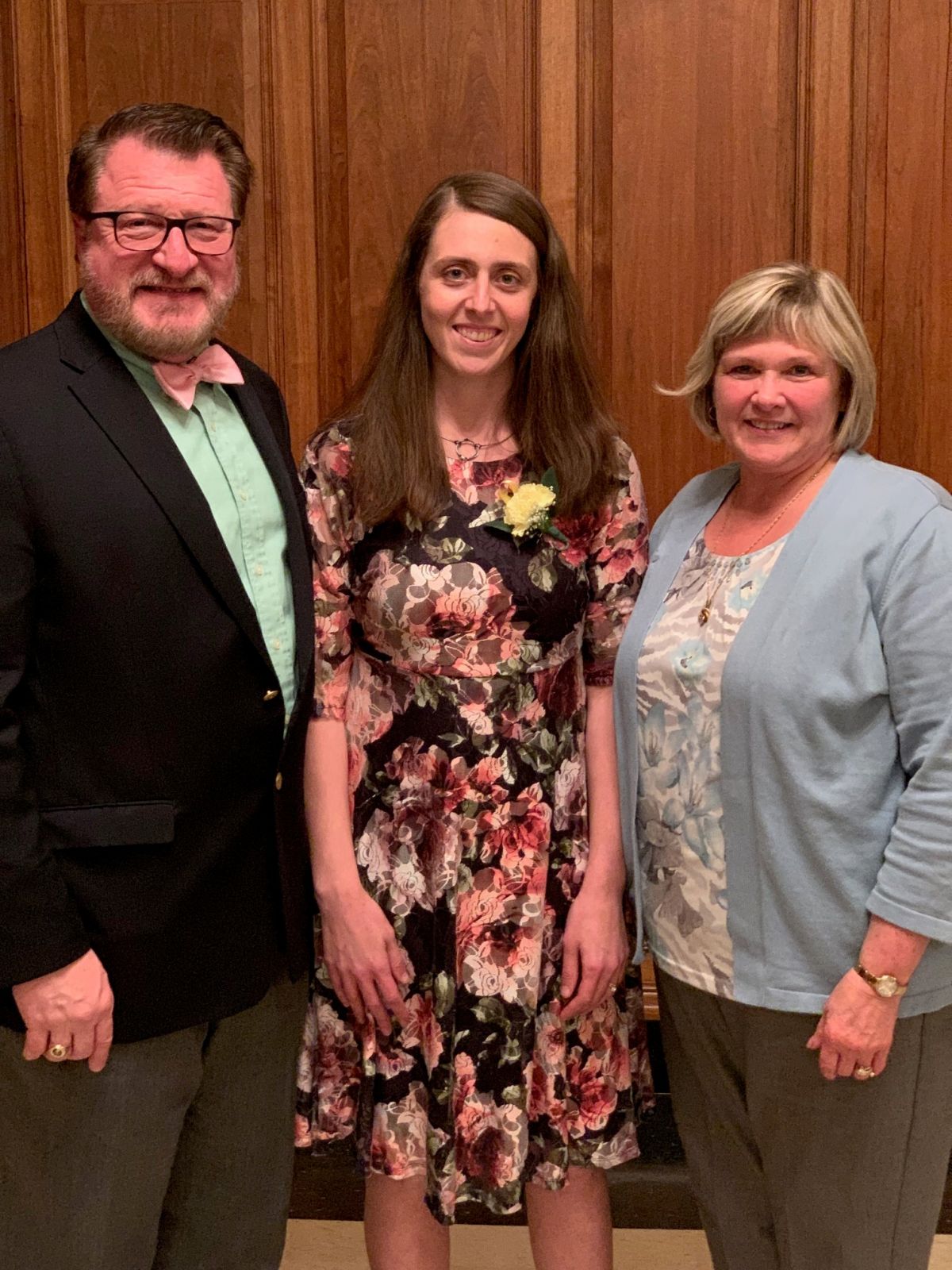 On Monday, March 18, 2019, the Board of Education of Allegany County hosted the 31st Annual Teacher of the Year Banquet at the Allegany Museum. Eight ACPS educators were honored for their dedication and commitment to student success. Sarah Llewellyn, Westernport Elementary School, was selected as the 2019-2020 Allegany County Teacher of the Year.
Dr. David Cox, Superintendent of Schools, and Mr. Robert Farrell, President of the Board of Education, offered remarks. Mrs. Tiffany Moran, last year's Teacher of the Year, also gave an address during the program.
Sarah strives to prepare students to enrich their communities by modeling best practices and through real-world lessons. She has actively created an environmentally sustainable school culture by coordinating the TREX recycling program, constructing a native pollinator garden, and piloting a school lunch composting program. Sarah is also an active member of the PBIS team and Partnership Action Team at Westernport. She received her Master's Degree in 2012 and her Bachelor's Degree in 2004, both from Frostburg State University.
"A child's learning experience is not fully acquired through learning in a classroom setting. I like to think of a classroom as a learner's home base. I am there to guide them both academically and socially," said Llewellyn.
Seven other Allegany County Teacher of the Year finalists were recognized at the banquet. These educators are as follows: David Buskirk, Beall Elementary School; Rachel Hager, John Humbird Elementary School; Bonnie Rowley, West Side Elementary School; Ray Short, Braddock Middle School; Tammy Twigg, Allegany High School; Shayna Welsh, South Penn Elementary School; and Brian White, Allegany High School.
The sponsors of the 31st Annual Teacher of the Year Banquet included Allegany College of Maryland, Allegany County Board of Education, Allegany County Chamber of Commerce, Allegany County Board of Commissioners, Allegany County Public Schools, Allegany County Education Association, ACT 1st FCU, Frostburg State University, and the Sandhir Foundation.
Each year a selection committee is formed to choose the winner of this prestigious award. This year's selection committee was comprised of Mrs. Carol Garner, 2013-2014 Teacher of the Year and MSDE Finalist; Mr. Gary Bartik, President, Allegany Museum; and Mr. Bill Boyer, Franchise Owner, Chick-Fil-A LaVale and Country Club Mall.
Special thanks should be extended to the members of the planning committee for their efforts in organizing this year's program, especially Lisa Stevenson, who is the event coordinator. Other members included Robert Stevenson, Jason Huber, who also served as the Master of Ceremonies, Dee Blank, and Mia Cross.
Oscar's Restaurant catered the event, and Tom Krukowsky and Career Center interactive multimedia production program students served as the videographers. Banquet programs were printed courtesy of the Career Center's printing department.
Sarah Llewellyn will now join other local Teachers of the Year as a candidate for the Maryland Teacher of the Year. These individuals will be honored at a meeting of the State Board of Education, and five state semifinalists will be invited to a reception in the fall for the announcement of the Maryland Teacher of the Year.