March 24th, 2015 by WCBC Radio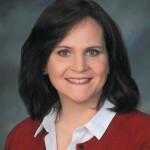 On Monday, the Board of Education of Allegany County hosted the 27th Annual Teacher of the Year Banquet at Mountain Ridge High School. Five ACPS educators were honored for their dedication and commitment to student success. Stephanie Marchbank, teacher at Mountain Ridge High School, was selected as the 2015-2016 Allegany County Teacher of the Year.
Stephanie earned her Doctorate in Educational Leadership in 2015, her Master's Degree in Administration and Supervision in 2006, and her second Bachelor's Degree in English Education in 2001, all from Frostburg State University. She received her original Bachelor's Degree in Language and Literature in 1993 from St. Mary's College of Maryland. Stephanie is her school's ELA instructional leader and has served as a mentor teacher. She is also on the School Improvement Team, the Emergency Planning Team, the Public Relations Committee, and the Scholarship Committee at Mountain Ridge. She has worked as an adjunct university professor and volunteers at her church and as a PTO member.
"Any person who has experienced the privilege of leading a classroom understands the complexity of good teaching," said Marchbank. "A teacher not only instructs and assesses, but also manages, counsels, advises, mentors, parents, and most importantly, inspires."
Four other Allegany County Teacher of the Year finalists were recognized at the banquet. These educators are as follows: Whitney Gotay, South Penn Elementary School; Lisa Harris, Westernport Elementary School; Joseph Thompson, Fort Hill High School; and Brian White, Allegany High School.
The sponsors of the 27th Annual Teacher of the Year Banquet included Allegany College of Maryland, Allegany County Board of Education, Allegany County Chamber of Commerce, Allegany County Board of Commissioners, Allegany County Public Schools, Allegany County Teachers Association, Allegany County Teachers FCU, and Frostburg State University.
Each year a selection committee is formed to choose the winner of this prestigious award, This year's selection committee was comprised of Dana Reinhardt, 2014-2015 Teacher of the Year; Eleanor Madden, Communications Specialist/Soccer Coordinator, YMCA; and Dr. Jennifer Rankin, Assistant Professor of Education, FSU.
Special thanks should be extended to the members of the planning committee for their efforts in organizing this year's program, especially Lisa Stevenson, who is the event coordinator. Other members included Robert Stevenson, Pat Kaylor, Jason Huber, who also served as the Master of Ceremonies, Dee Blank, and Mia Cross.
An ACPS strings ensemble provided the pre-program musical entertainment; Phil Carter and Career Center culinary arts program students catered the event; and Tom Krukowsky and Career Center interactive multimedia production program students served as the videographers. Banquet programs were printed courtesy of the Career Center's printing department.
Stephanie Marchbank will now join other local Teachers of the Year as a candidate for the Maryland Teacher of the Year. These individuals will be honored at a meeting of the State Board of Education, and five state semifinalists will be invited to a reception in the fall for the announcement of the Maryland Teacher of the Year.