September 2nd, 2015 by WCBC Radio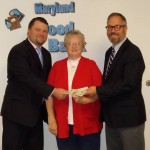 There were indeed no losers in the 1st Annual Mountain Maryland Red vs Blue Softball Game.
The Democrats won the game last Sunday, but the real winner was the Western Maryland Food Bank, which received more than $1000 in cash and 71 pounds of food.
Team managers Robin Summerfield and Erich Bean presented the check to Diana Loar of the Food Bank yesterday.
Plans are already being made to make the game an annual event.