May 8th, 2015 by WCBC Radio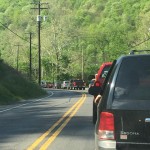 This is a view of traffic going westbound through the Narrows around 4 PM Friday Part of the cause of this backup was a two vehicle accident further up the road..
Throughout the week, traffic has been reduced to one lane on I 68 coming east into Cumberland and going west from Cumberland, due to various construction and paving projects. This has caused those seeking to avoid the interstate backups to use city streets as a bypass, and created volume problems.
Here's a link to the current flow on the crosstown bridge:
http://www.chart.state.md.us/video/video.php?feed=7300129800e800dd00451536ea235d0a