April 9th, 2016 by WCBC Radio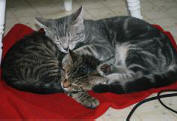 The Maryland State Fire Marshal's office has issued a Notice of Investigation in regard to the fire that occurred in Oldtown last night that injured two individuals and destroyed the Ark of Hope Animal Rescue.
Elizabeth Care, who lives at the nearby residence, posted an update on Facebook and indicated that a volunteer, Cynthia Burley, was admitted to the hospital after suffering from smoke inhalation. Dianne Care also received treatment, but has been discharged. Elizabeth Care, who indicated she was injured while trying to get to the animals, says it will take some time to regroup and assess the situation. She asked for prayers, and indicated a high insurance deductable may provide another hardship.