July 1st, 2017 by WCBC Radio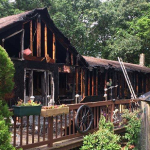 Investigators from the Office of the State Fire Marshal were requested to investigate the origin and cause for a dwelling fire at 934 Avilton Lonaconing Road in Lonaconing, Garrett County.
Nearly 75 firefighters responded from Good Will and surrounding fire departments to extinguish the 8:15 a.m. blaze on the rear of the home occupied by Roger and Nancy Pierce. Mr. Pierce (69) was transported for chest pains and was released shortly thereafter. Mrs. Pierce (66) received 1st & 2nd degree burn injuries to an estimated 20% of her body while saving the family dog and exiting through the flames at the rear of the home. She was initially treated at Western Maryland Regional Medical Center and subsequently transported in stable condition to Johns Hopkins Bayview Burn Center for continued treatment of her burn injuries. One firefighter from Midland VFD received a non-life threatening fall injury and was transported for evaluation.
The investigation revealed the accidental fire originated on the back porch/deck area and was ignited when electrical wiring became overheated and ignited nearby combustibles. Damage to the structure and contents was estimated at $225,000.