September 18th, 2015 by WCBC Radio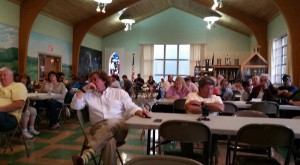 Allegany County Board of Education member Wayne Foote fulfilled a campaign promise and held what he called a "Little Red Schoolhouse" public meeting Thursday evening at New Covenant United Methodist Church on Frederick Street in Cumberland.
About 60 citizens attended and, while there was significant discussion of the new Allegany High School project, the two plus hour session included community comments on the recently disbanded Agriculture Education program, AP classes and their availability, school performance and measuring success with the national ASVAB test, coordinating bus service with day care locations, and a cautionary tale of how consolidation negatively affects communities from longtime activist Tom Marsh.
Foote had hoped that the informal setting would encourage a presentation of ideas that dont' usually make it to the formal Board of Education meetings. Following the session, Foote told WCBC there will be another forum this fall, likely to be scheduled in the LaVale area, before taking the concept to the George's Creek area in the spring.