June 5th, 2019 by WCBC Radio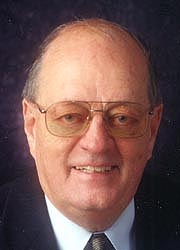 WCBC News has learned that former Distirct 1 State Senator John Hafer has died at the age of 87.
Hafer represented Western Maryland from 1991 through his retirement in 2007, serving during the William Donald Schaefer, Parris Glendenning and Bob Ehrlich administrations.
While in the Senate, Hafer served on the Finance Committee for his entire tenure. He also served on the Rules Committee, the Legislative Policy Committee, the Joint Audit Committee, and the Administrative, Executive and Legislative Review Committee, among others.
Senator Hafer was the chair of the Western Maryland Delegation for 12 years.
Hafer was a long time funeral director in our area and had been in poor health for the past few years.
The Durst Funeral Home, in Frostburg, is in charge of arrangements.