May 17th, 2015 by WCBC Radio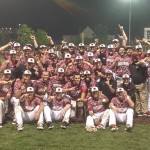 For the first time in program history, Frostburg State University will be represented at the NCAA Division III Baseball Championship as the second-ranked Bobcats defeated La Roche 8-4 in the 2015 Mideast Regional Championship game, Saturday night.


Frostburg joins Emory (South), Cortland (New York), Trinity (West), Salisbury (Mid-Atlantic), Ramapo (New England) and Concordia-Chicago (Midwest) in the World Series that is slated for May 22-26 at Fox Cities Stadium in Appleton, Wisc. The central region has two games remaining on Sunday.


The Bobcats (41-7) became the first team in the country with 41 wins this season with the title game victory over the Redhawks (33-13). The 41 wins also ties the Capital Athletic Conference single-season mark.


The Bobcats jumped out of the gate in a hurry with eight runs and 12 hits over the first four innings against La Roche. Frostburg finished with eight runs on 14 hits and limited La Roche to just four runs on five hits.


Frostburg opened up a 4-2 lead after the first two-and-a-half innings before a hard rain delayed the game for over three hours. However, the rain and stoppage of play did little to slow the Bobcats.


Frostburg, which scored two runs in the first, second, third and fourth frames, was led in hitting by senior Ricky Castro and juniors Connor Cooper and Jamaal Windom. Castro was 3-for-4 with two runs and an RBI, Cooper was 3-for-4 with two RBI and one run, while Windom was 3-for-4 with an RBI.


As good as the hitting lineup for Frostburg was, the pitching proved to be the difference.


Sophomore Jake Stephens earned the win after pitching 4.0 innings and allowing just two runs, neither earned, while striking out three. Freshman Greg Schneider started the game prior to the delay and tossed 3.0 innings and striking out seven. He surrendered just one hit and two runs.