October 28th, 2020 by WCBC Radio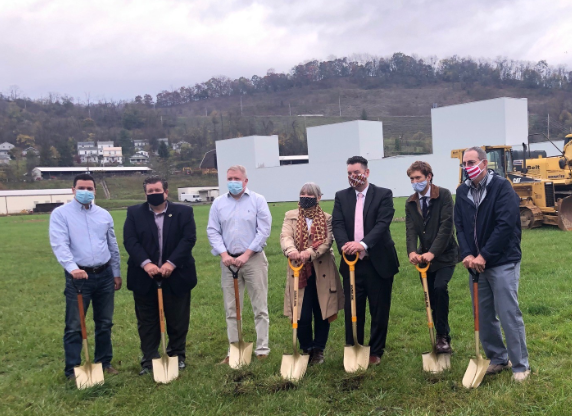 Today, representatives of Grow West MD were joined by members of the District 1 Legislative Delegation, Allegany County Board of County Commissioners, Mayor and City Council of Cumberland, investors, staff, and friends to celebrate the groundbreaking of phase 2 of their expansion at their Kelly Road location. The second phase expansion will result in an additional $20 million in capital investment, and builds on the $14 million the company has invested in the community thus far. With nearly 100 local individuals employed with Grow West, the expansion will bring with it an additional 60 jobs. The construction will utilize local labor.
William Valois, the CEO of Grow West, stated, "thanks to these investments and partnerships with Allegany County and the City of Cumberland, Grow West is poised to become the largest grow facility in the State of Maryland. As the Maryland market still has great potential to expand, the investments we are celebrating here today will result in sustainable growth for our business, the community, Western Maryland, and the entire state."
Commission President Jake Shade called the expansion an "important milestone" in the business's short history noting the partnership between the company and the ounty that first brought the project to Allegany County.
Finally, Dustin Freas, representing local investors in the project commented, "Today, we are celebrating not only the expansion of a business, but an opportunity for another generation of people who call Allegany County their home. It has taken considerable vision to take the shell of what once was, and make it into what can be. It has taken long hours, sleepless nights, and determination to make our current operations a success."