March 23rd, 2015 by WCBC Radio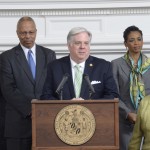 Governor Larry Hogan today met with all 10 members of Maryland's delegation to the U.S. Congress to discuss the state's federal priorities, and to develop strategies to ensure the administration and delegation are jointly focused and working as a team to do what is best for the state.
A main emphasis of the meeting was the relocation of FBI headquarters from Washington, D.C., to Prince George's County—a move that would bring an estimated 11,500 jobs to Maryland. Currently, the largest proportion of the FBI's workforce resides in Maryland.
Prince George's County Executive Rushern Baker joined the governor and the delegation after the meeting, highlighting that officials are united at the federal, state, and local levels in making sure the FBI headquarters relocates to Prince George's County. Strategic assets like Joint Base Andrews and the National Security Agency, as well as access to mass transit, make Prince George's County an ideal location.
Other key topics discussed included business and economic development, infrastructure, labor, licensing and regulation, housing and community development, the Maryland National Guard, and transportation.
"I'm so pleased the entire Maryland congressional delegation could join with us today," said Governor Hogan. "Supporting essential state programs and infrastructure is something we all agree on and can work together to achieve. If there is one issue on which we are speaking in a unified voice, it is the relocation of the FBI headquarters to Prince George's County. This is something we all want to see happen for the good of our state."
Both the administration and the members of the delegation pledged to remain in regular contact and to work together to make lasting improvements to the state.
Comments from the delegation are as follows:
"We're working together, standing shoulder to shoulder, to retain, expand, and attract jobs and opportunity to Maryland. Our state is home to leading federal assets that are job magnets packing a one-two punch, supporting federal employee jobs and creating new jobs in Maryland's private sector. We're united in bringing the new FBI headquarters to Maryland and Prince George's County, keeping our country and the American people safe while working for new jobs in Maryland. The FBI must have 21st-century resources to take on 21st-century threats." –Senator Barbara Mikulski
"Prince George's County has two of the three sites on the short list for the new FBI headquarters for good reasons: We have the best locations, the best infrastructure, the best people, and the best local, state, federal, academic, and private-sector assets to support a full consolidation. Maryland's congressional delegation has worked together tirelessly throughout this process, and it sends a strong message that Governor Hogan chose to make this effort to bring the FBI to Maryland such an early priority."
–Senator Ben Cardin
"I'm proud that our federal, state, and local officials are fully committed to Prince George's County as the next home of the new FBI headquarters. This project would bring thousands of jobs to Maryland and more economic opportunities to the County and throughout our state. I look forward to continuing to work together with Team Maryland and Governor Hogan to ensure this headquarters is relocated to Prince George's County." –Congressman Steny Hoyer (MD-05)
"I hope we can move forward with plans and bring the FBI to Maryland. Aside from the thousands of jobs it will bring to the area, having the FBI headquartered here will be great for both the economy and local communities."
–Congressman Andy Harris, M.D. (MD-01)
"Bringing 11,000 high-paying jobs to Maryland by choosing Prince George's County for the new FBI headquarters is a no-brainer. The bulk of FBI employees—more than 40 percent—already call Maryland home. We also have the infrastructure to accommodate an influx of federal workers, and our proximity to other federal agencies will encourage close cooperation."
–Congressman Dutch Ruppersberger (MD-02)
"Relocating the FBI headquarters to Maryland would bring thousands of jobs to our state, resulting in a positive impact on our local economy and on our local communities. I'm honored to work together with officials at the local, state, and federal levels to make this project a reality." –Congressman John Sarbanes (MD-03)
"Locating the new headquarters of the Federal Bureau of Investigation in Maryland is a win-win for the FBI and our state. In Prince George's County, the FBI would be in close proximity to Metro stations, our nation's capital, Joint Base Andrews, and first-class educational and research facilities. With the 11,000 jobs the FBI would bring to the area, it would help spur tremendous economic development for the county and the state. I thank our delegation, state and local officials, and all concerned parties for the incredible cooperation, and we will continue with that effort to bring the FBI to Prince George's County, Maryland."
–Congresswoman Donna Edwards (MD-04)
"Even though the new FBI headquarters wouldn't be in Maryland's Sixth District, here's the absolute bottom line: Bringing the FBI to Maryland is good for the people of our state, from the mountains to the Bay and points in between. Moreover, with the strengths Maryland has to offer, our state is the best location for the federal government and the FBI. Building the FBI headquarters in Maryland will mean Maryland jobs and a stronger Maryland economy, and Team Maryland is united on this."
–Congressman John Delaney (MD-06)
"Bringing the FBI headquarters to Maryland is a win-win proposition. Not only would our state benefit from the economic boon that 11,000 FBI employees would bring, but Prince George's County would also provide a more convenient location for the many FBI workers who live here. Team Maryland on the federal, state, and local levels will continue to work together with the unified mission of demonstrating to the GSA the numerous benefits of selecting Maryland as the new home of the FBI."
–Congressman Elijah Cummings (MD-07)
"An elite institution deserves a top-notch place to call home, so there's no question Prince George's County is the ideal location for the new FBI headquarters. It is convenient for the FBI's existing workforce, close to strategic assets like Joint Base Andrews and leading cybersecurity resources, and has the real estate necessary to build a secure campus tailored toward the Agency's current and future needs. I look forward to working with Governor Hogan, County Executive Baker, and the entire Maryland congressional delegation to ensure our state is the next home of the FBI." –Congressman Chris Van Hollen (MD-08)
"Maryland's leadership is 'all in' to bring the FBI to our state, and we are continuing to work together to ensure that one of our two sites is selected as the new location for FBI headquarters. I am proud to stand united with Governor Hogan and the entire Maryland congressional delegation as we advocate for bringing this once-in-a-generation opportunity to Prince George's County. Today, we welcome Governor Hogan to the team. His support will be a tremendous asset in our quest to bring the FBI to Prince George's County, Maryland." –Prince George's County Executive Rushern L. Baker III