September 25th, 2016 by WCBC Radio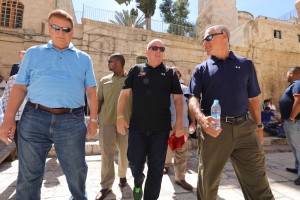 Governor Larry Hogan today toured the Old City of Jerusalem, including the Garden of Gethsemane and Church of the Holy Sepulchre, and visited the Church of the Nativity in Bethlehem, during the Sabbath while on a trade mission to Israel. The Sabbath is a day of religious observance for the Jewish faith.
"Seeing these storied Biblical sites firsthand has given our delegation a deep understanding of Israel's rich history and culture," said Governor Hogan. "The opportunity to connect with the people of this nation has truly strengthened the relationship between Israel and our state."
During a tour of the Old City of Jerusalem, Governor Hogan visited the Garden of Gethsemane, which is known as the place where Jesus prayed the night before his crucifixion, according to the Gospels.
The governor next toured the Church of the Holy Sepulchre in the Christian Quarter of the Old City of Jerusalem. The church contains two of Christianity's holiest sites: the Cavalry, the site where Jesus was crucified, and the empty tomb where Jesus is believed to have been buried and resurrected.
Governor Hogan then traveled to Bethlehem, to the Church of the Nativity, where he was joined by Bethlehem Mayor Vera Baboun. The Church of the Nativity sits atop a holy site known as the Grotto, which is traditionally believed to be the birthplace of Jesus.