August 9th, 2015 by WCBC Radio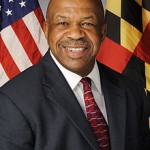 Baltimore Congressman Elijah Cummings tells WBAL Radio that he is thinking about his political future, including a potential run for Maryland's U S Senate seat which is being vacated by Barbara Mikulski.
So far, Congressional representatives Donna Edwards and Chris Van Hollen have announced their candidacies. The Washington Post has gotten a copy of a poll which indicates that Cummings holds a slight lead over those two in an early opinion survey.
Cummings has set no deadline for making a decision on a run.