September 23rd, 2014 by WCBC Radio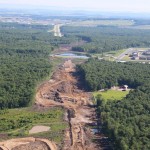 The Greater Cumberland Committee has released photos of progress on the North South Corridor. This photo shows the movement of earth south of where 219 dead ended south of Somerset. This segment of the highway will connect to Meyersdale. In the meantime, there will be an informational workshop on another section of the road tonight.
PLANNING STUDY RESUMES TO IMPROVE CONNECTION BETWEEN I-68 IN GARRETT COUNTY AND MEYERSDALE, PA
WHAT:
The Maryland State Highway Administration (SHA), in cooperation with the Pennsylvania Department of Transportation (PennDOT), invites the public to attend an informational workshop for the US 219 Project Planning Study.
WHEN:
Tuesday, Sept. 23, 5:30 p.m. to 8 p.m.
No formal presentation will be given. You may arrive at any time during the workshop hours.
WHERE:
120 Grant Street, Grantsville, MD 21536
WHY:
SHA, in cooperation with PennDOT, recently reinstated the US 219 Project Planning Study. The study concerns a number of needs along the US 219 corridor between I-68 in Garrett County and Meyersdale, Pa. These include improving economic development potential, increasing safety, reducing congestion and improving connectivity between I-68, the four-lane section of US 219, and the Pennsylvania Turnpike.
The workshop will provide information on the study's purpose and need, the alternatives under consideration, and a summary of the environmental, traffic, and other analyses completed to date. Maps and other exhibits will be on display, and project team members will be available to answer project-related questions and receive comments.