January 1st, 2016 by WCBC Radio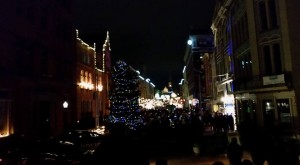 The First Night of 2016 came in with a drop and a bang Thursday night, as thousands descended upon the Downtown Cumberland Mall to ring in 2016.
The crowd was enthusiastic, but also stayed within the bounds of law, as a lighted ball dropped from the top of the Cumberland Arms, and a spectacular fireworks display lit up the sky to celebrate the arrival of a New Year.
https://www.facebook.com/WCBCRadio/videos/10153815117949496/?theater
WCBC's Bryan Gowans, Paul Mullan and Bridget Nolan Manley joined forces for the third consecutive year for a two hour news and entertainment special that featured a look back at the top local, national and international stories of 2015, which included fact, opinion and analysis from both sides of the political spectrum.