August 9th, 2015 by WCBC Radio
The Maryland Emergency Management Agency says that a minor earthquake was reported last night in Anne Arundel County.
The U.S. Geological Survey has confirmed that 2.2-magnitude event reported near Crownsville around 10 p.m.
WBAL Radio is saying people have reported hearing loud booms and their walls shaking.
There are no reports of significant damage or injuries.
Nearly four years ago, a 5.8-magnitude earthquake centered in Virginia shook Maryland, including our area.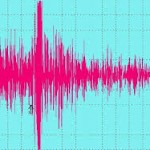 .